UK Parliament Teacher Ambassador
In January 2018, Mrs Barrett spent three days at the Teachers' Institute, in The Houses of Parliament, to train to be a UK Parliament Teacher Ambassador.

The official Press release from Westminster read:
Gomersal Primary School Teacher selected to be a UK Parliament Teacher Ambassador.
Mandy Barrett, a teacher from Gomersal Primary School in West Yorkshire, has been selected to attend Teachers' Institute at the Houses of Parliament.
Since it's launch in 2006, Teachers' Institute has trained more than 700 teachers from all parts of the UK, giving them a detailed understanding of how the House of Commons and Lords work.
Those taking part in the Teachers' Institute become UK Parliament Teacher Ambassadors following the training, and go on to teach their students and fellow education professionals about democracy and the Houses of Parliament.
Mandy applied to Parliament's open call and was selected from more than 170 applicants to attend the three-day training event in Parliament. Fully funded by Parliament's Education Service, Mandy will question the House of Commons Speaker and the Lord Speaker, and hear from parliamentarians of all parties about their work in the Commons and Lords.
Rt Hon Lord Fowler, The Lord Speaker, said:
"Teachers' Institute is exceptionally well-regarded by the participants each year, and I welcome the opportunity to explain the work of the House of Lords to such an appreciative audience."
Rt Hon John Bercow MP, Speaker of the House of Commons, said:
"I am proud that this excellent initiative continues to provide such an invaluable service. Better engagement and dialogue with young people is of fundamental importance to our democracy, and I am sure that the UK Parliament Teacher Ambassadors attending Teacher's Institute will find the experience both useful and enlightening."
Parliament's Education Service works with school and Members of both Houses of Parliament to support young people in developing their understanding of Parliament and democracy. Offering free programmes and resources, Parliament's Education Service informs young people about the role, work and history of Parliament through educational visits, tours, publications, outreach and competitions. It connects young people with Parliament and democracy today through active learning, and empowers young people to get involved by equipping them with the knowledge and skills to take part in their democracy. For more information about other programmes available from Parliament's Education Service, visit: www.parliament.uk/education
Our local newspaper 'The Spenborough Guardian' featured an article about Mrs Barrett's travels to London.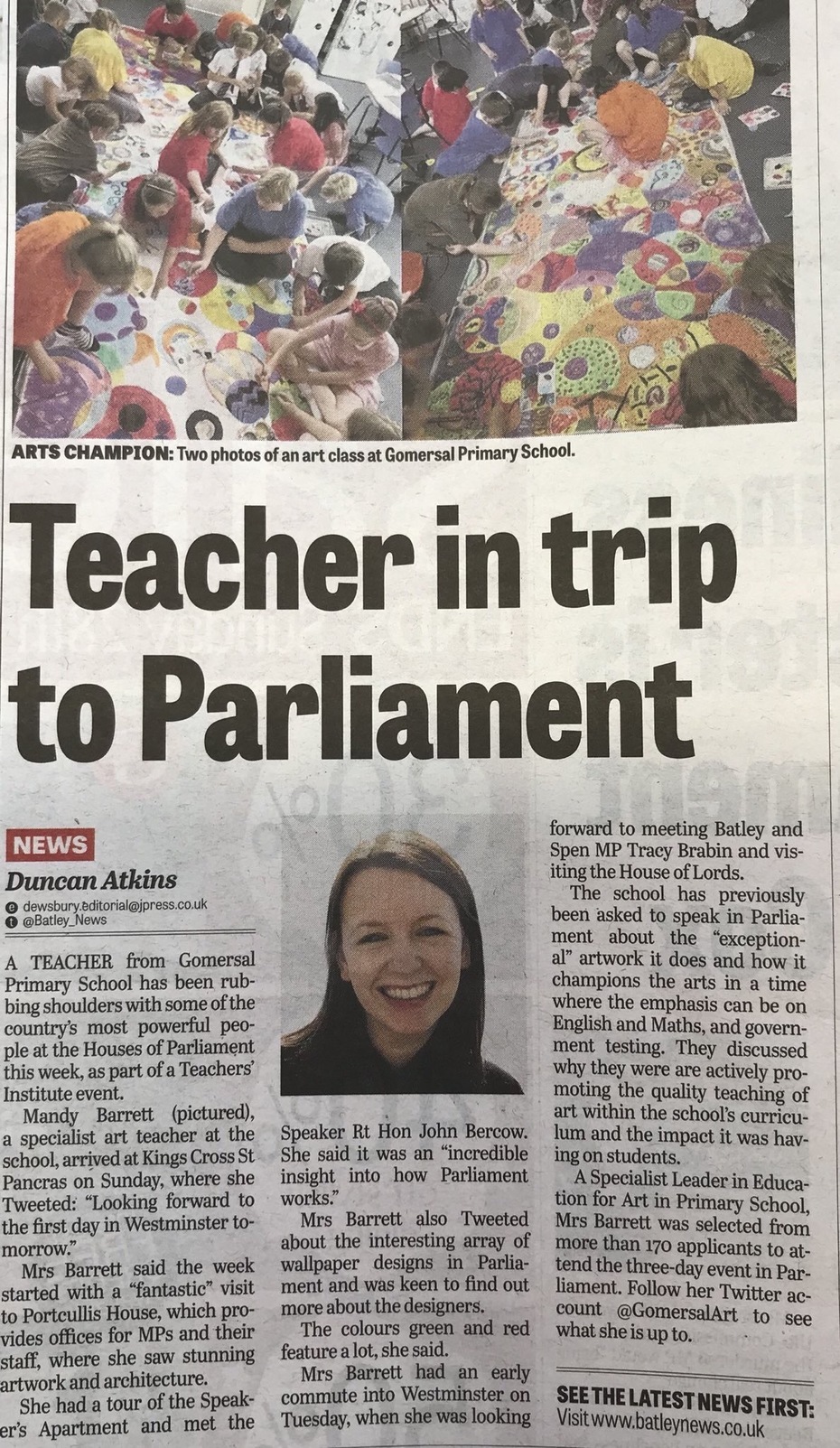 Local MP, Tracy Brabin visited our school to talk to Mrs Barrett about her experience in the Houses of Parliament. She also spent time talking to our school Arts Council, answering some of the questions they had prepared. Our Arts Council members were incredibly excited to meet Tracy and used the opportunity to find out about the role of an MP.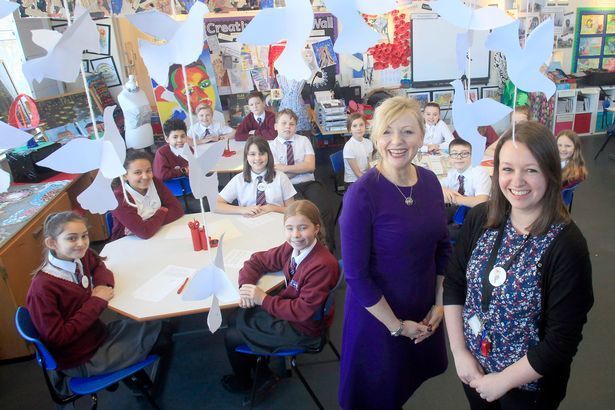 A reporter from the Huddersfield Examiner attended, creating a short video and an article about
Tracy Brabin's visit to our school.
https://www.examiner.co.uk/news/west-yorkshire-news/youngsters-gomersal-school-learn-how-14217136
We have recently ordered some free resources from the Parliament Education service. The children were incredibly excited to receive envelopes and boxes that were post marked from the House of Commons. These resources are going to be used within our lessons to enhance our learning of Parliament and democracy linked to British Values.
You can find out more about free resources to support Parliamentary topics here:
http://www.parliament.uk/education/teaching-resources-lesson-plans/